Sarah Munnings is a self taught jewellery artist who adores working with clients to bring their designs to life, especially enjoying unconventional and quirky pieces like this beautiful ring created specially for a Lord of the Rings loving client.
She teaches beginner techniques across Melbourne and is known for her laid back, relaxed classes and eccentric teaching style.
Loving texture she fills her workshop with ceramics, found objects and anything that inspires her.
Her experimental style, interactive design process and re-engineering mind bring your ideas to life.
All her work is handmade in Melbourne with her own skilled hands.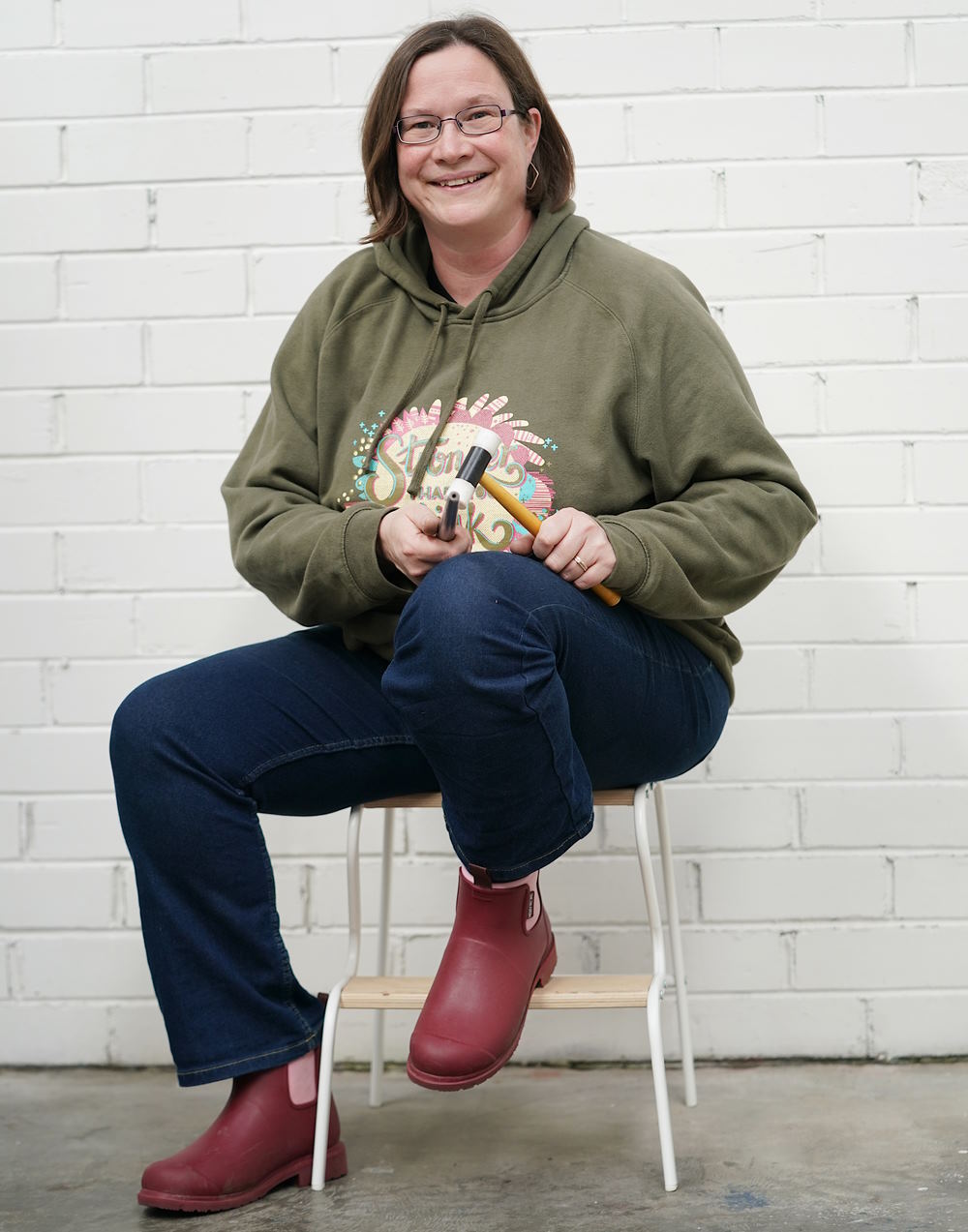 Sarah welcomes everyone to her workshop and classes, she has
established her workplace and classes to be accessible and accepting of everyone. Having changed career more than once, she honestly believes that there is creativity inside all of us - having trained in History and Landscape Archaeology, becoming a bank manager at 21 and now a jewellery artist she didn't believe she was creative herself until she picked up tools and allowed her creativity to escape.
Accessibility: Sarah loves to work with people from all walks of life, with different budgets and lifestyles, creating a piece that reflects their personality, interests and dreams, or adjusting a workshop to make work achievable.
Working with a chronic pain condition, Sarah understands the need for flexibility in work, she has to pace her business to manage pain, while also balancing family life and community work. Sarah meets you where you are on your own journey, and adapts her jewellery or classes to suit you.
Email is the best way to contact Sarah, her talents are many, but this does not include talking on the phone, as an Autistic adult she cant read your facial expressions on the phone and gets totally lost.
If she contacts you and forgets the social niceties its not personal, she often has to go back and add "Good morning, how are you / nice to hear from you" as she is laser focussed on getting the best outcome for your enquiry and forgets the small talk.
Contact Details